N 44° 41.673' W 79° 23.945' (WGS84)

Współrzędne w innych systemach

Lokalizacja: Canada

Typ skrzynki: Wirtualna

Wielkość: Bez pojemnika

Status: Gotowa do szukania

Data ukrycia: 26 April 2018

Data utworzenia: 26 April 2018

Ostatnio zmodyfikowano: 16 August 2018

Waypoint: OU0B2B

1 x znaleziona

0 x nieznaleziona

1 komentarze

0 notatki

0 obserwatorów

1157 odwiedzających

1 x oceniona


Oceniona jako: N/A


GeoKrety wizyty

Dostępne mapy:
Opencaching
,
Google Maps
Automatic translation thanks to:
To Claim this Virtual  Have your picture taken on the Bridge 
Webers was opened on July 11, 1963, by Paul Weber Sr., to cater to cottage goers. By the 1970s, it became so popular that patrons on the opposite side of the highway would often risk injury running across the street to the restaurant. In 1981, the province built a traffic barrier along the median of the highway in an effort to stop the jaywalking. Even so, travellers heading toward Toronto climbed over the waist-high wall to get their food. The following year, the province took further precaution by erecting a fence on top of the barrier. In 1983, Paul Weber Jr., the founder's son, bought a footbridge from a Toronto lawyer that was being used as part of the CN Tower's SkyWalk over Front Street to provide safe access to southbound travelers. This bridge has the distinction of being the first and only privately owned bridge spanning a public highway in Ontario. In 1987, Webers installed three CN train cars, retrofitted to house their own meat processing facility. They have since added two dining cars as well, which are open as places where customers can eat their food.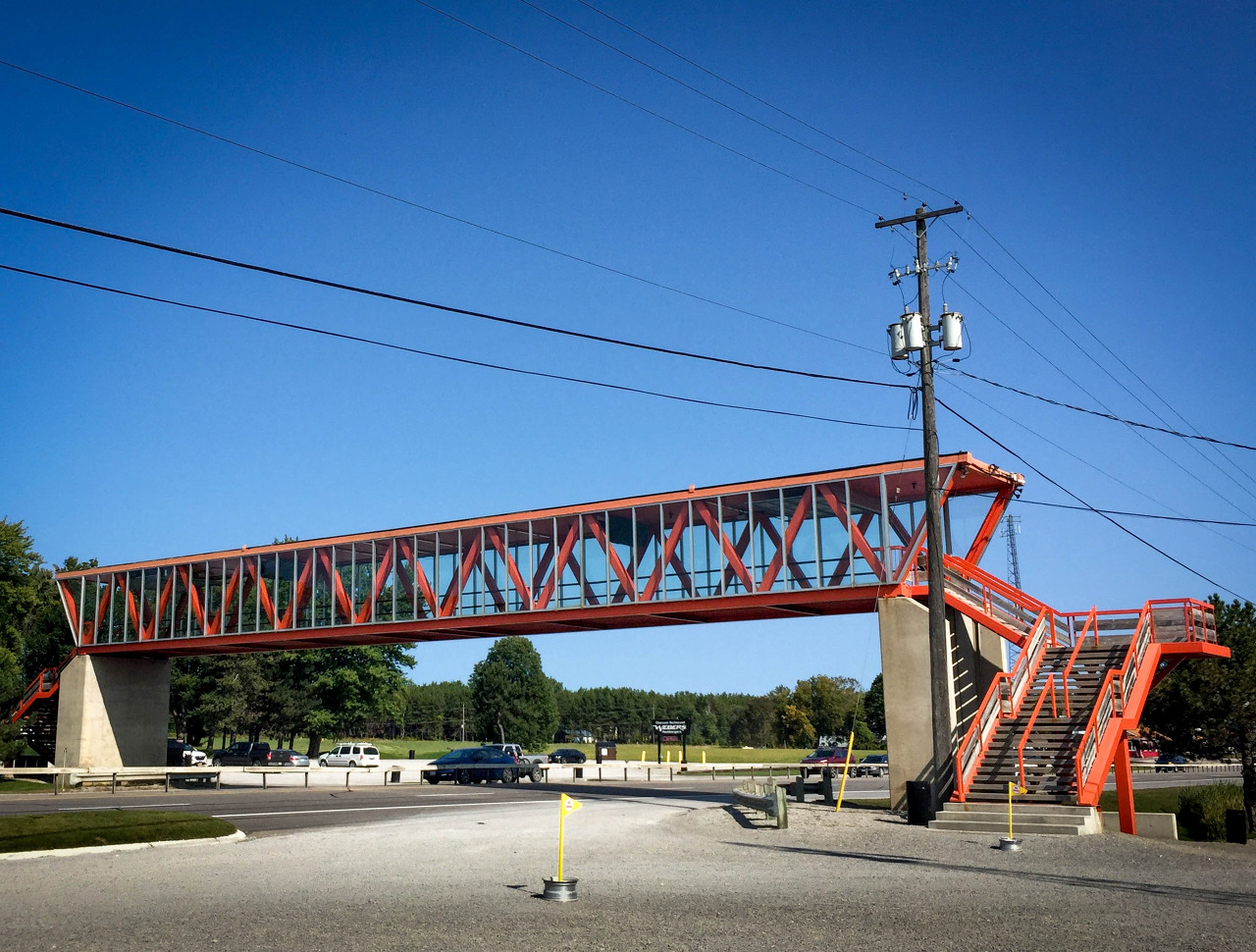 Wpisy do logu
1x
0x
1x

Wpis do logu
18 August 2018 Bon Echo Znaleziona
On the way up to the Poker Lakes area for a quick one-night stay on Big East Lake, which of course had us travelling under the Burger Bridge just around lunch time. And the crowds were already rolling in to get their hands on some of those burgers. As for us. we had packed sandwhiches so cheapo dad (that's me) stopped to get a picture, get the sandwiches out of the cooler, then continue on north. I've passed by here dozens of times but only stopped once, and didn't particularly love the food. When we drove back on Sunday there was literally a hundred or more people waiting in line, for a burger! Maybe I just had a bad one and should try agin, but no wait I'm goig to wait an hour in line for lunch. Thankfully this virtual was a "park-and-grab", thanks simrebel for another smiley. If you get up to Big East Lake, there's a opencache waiting for you to sign just a few hundred meters in from the parking lot, no canoe required (will submit for review shortly).

27 April 2018 simrebel Gotowa do szukania
Cache ready to search.
27 April 2018 TermiteHunter Komentarz
Accepted